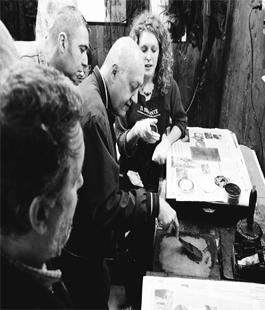 Fondazione Il Bisonte
has made available, thanks to a generous contribution from Luisa Romagnoli, a scholarship to fully cover of the cost of enrollment in a 
Printmaking Course
- base module.
This scholarship is reserved for non-italian civitizen between the age of 18 and 35 residing ouide of Italy, not employed, interested in completing their training in the field of grephics, and who already possess basic knowledge of the subject.
The candidates must submit the following documentation to the office of Il Bisonte Foundation by 1 December 2017:

1) Written application (application form available at Il Bisonte office or on its web site);
2) A portfolio of at leastthree prints;
3) A Curriculum Vitae detailing past studies and planned artistic activity.
The scholarship will be assigned with final decision by a commettee and the classification list will be official from the 15th of December 2017.
Deadline application: 1 December 2017Period of study: 10 January – 6 April 2018Time commitment: 20 hours a week, 9:30-13:30 from monday to Friday
Info:
www.ilbisonte.it
 -
info@ilbisonte.it
CP