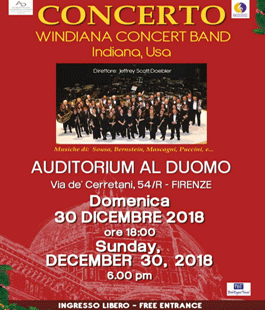 Domenica 30 Dicembre
, alle ore 18.00,
Windiana Concert Band
sarà protagonista della serata musicale a
ingresso libero
all'
Auditorium al Duomo di Firenze
(via de' Cerretani, 54/r).
Programma 
Hands Across the Sea March by John Philip Sousa (3:00)
Gloria from Sacrae Symphoniae (1597) by Giovanni Gabrieli (c.1556-1612)
arr. Michael Boo (3:30)
Highlights from West Side Story by Leonard Bernstein arr. Ted Ingram (5:00)
Annie Laurie folk song arr. Leonard B. Smith (3:00)
'Til There Was You by Meredith Willson arr. Alfred Reed (2:00)
Lauren Hartman, soprano
Original Dixieland Concerto by John Warrington (4:00)
Scenes from the Colosseum by Michael Boo (5:00)
The Klaxon March by Henry Fillmore (3:00
Yao Nationality Dance arr. Yu Jianfang (8:00)
Ernani by Giuseppi Verdi arr. E. L. Barrow (4:00)
Musetta's Waltz from La Boheme by Giacomo Puccini arr. E. L. Barrow (2:30)
Lauren Hartman, soprano
Italian Operas Suite arr. Michael Boo (14:00)
I. Toccata from L'Orfeo by Claudio Monteverdi
II.Adoramus Te, Christe by Francesco Rosselli
III. Intermezzo sinfonica from Cavalleria Rusticana by Pietro Mascagni
III. Elixir of Love: Introduction to Act II by Gaetano Donizetti
Ancient and Honorable Artillery Company by John Philip Sousa (3:00)
Encore: Friendship Lasts Forever arr. Michael Boo (1:00)
Il gruppo sceglierà i brani da eseguire dal programma sopra riportato.
Per maggiori informazioni:
www.auditoriumalduomo.com